SFD-100MJPortable multi component flue gas analysis, detection alarm

High temperature gas detection (optional)

Graphical display

Data recovery function

Can be set to display the maximum value, the minimum value, the average

High precision temperature and humidity measurement (optional)

Support for real-time detection or timing detection

Wrong operation identification function

Automatic zero tracking, long-term use is not affected by zero drift

Multi level calibration of the target to ensure the linearity and accuracy of the measurement.

Log record

To meet the requirements of intrinsically safe circuit design anti-static, anti electromagnetic interference, by standard test and CMC measurement equipment production license certification

Protection class up to IP65, waterproof splash, dust, explosion, shock
Product feature
Performance parameter
Data download
Operation video
At the same time, it can detect 1 to 4 kinds of gas, and the unit is free to switch.
Optional units: PPM, mg/m3, Vol%, LEL%, PPHM, ppb, mg/L.,
In pump suction measurement, integrated water vapor, dust filter, quick response and support long distance sampling
The built-in water vapor, water vapor and dust dust filter to prevent damage of sensors and instruments, can be used for high humidity, high dust environment; sampling distance greater than 5 meters, the special air route design, direct detection; negative pressure or positive pressure gas -0.5 ~ 2 kg, had no effect on the measurement results.
Rich man-machine interface
2.31 inch high-definition color screen display, real-time alarm, concentration, time, temperature, humidity, storage, communication, power, state of charge, concentration units,
Gas molecule type, gas name and other information; menu interface using high-definition simulation graphics display the function of each menu name.
Large capacity data storage function, support a variety of storage methods
The standard 100 thousand data storage capacity, larger capacity can be customized; support real-time storage, storage time, or only alarm concentration data; support the view, delete data, or data can be uploaded to the computer through the USB interface with PC software, data analysis and storage, print optional RS485 communication.
High temperature gas detection (optional)
Optional high temperature sampling temperature filter handle or high temperature and humidity pretreatment system can detect 400 degree temperature of the flue gas.
Three display modes can be switched
At the same time display four kinds of gas concentration, large font cycle shows the concentration of single channel gas, real-time curve display.
Graphical display
In the form of curves, it reflects the trend of gas concentration in a period of time.
Data recovery function
Can select some or all of the recovery, replacing the wrong operation caused by worries.
Can be set to display the maximum value, the minimum value, the average
Standard USB charging, with charging protection function, support USB hot plug
Charge or charge treasure available computer, compatible mobile phone charger; overcharge, over discharge, short circuit, overvoltage, overheating protection; 5 level precision power display; detecting instrument in charge can work properly. The large capacity 4500mA can work normally.
Rechargeable polymer battery, can work continuously for a long time
High precision temperature and humidity measurement (optional)
Support for real-time detection or timing detection
When the pump can not be closed to extend the boot time.
A variety of alarm, alarm when the multi direction of the alarm state
Including sound and light alarm, vibration alarm, display visual alarm, alarm types include: concentration alarm, under pressure alarm, fault alarm.
Multiple alarm mode settings
Low alarm, high alarm, interval alarm, weighted average alarm.
Wrong operation identification function
Concentration calibration error operation automatically identify and stop, can avoid the adverse factors caused by human factors.
Automatic zero tracking, long-term use is not affected by zero drift
Multi level calibration of the target to ensure the linearity and accuracy of the measurement.
Chinese and English interface can be selected
Wide working temperature: -40 ~ +70 C, support temperature compensation
Log record
Log calibration log, maintenance log, fault resolution strategy, sensor life expiration reminder, next time concentration calibration time alert function.
To meet the requirements of intrinsically safe circuit design anti-static, anti electromagnetic interference, by standard test and CMC measurement equipment production license certification
Protection class up to IP65, waterproof splash, dust, explosion, shock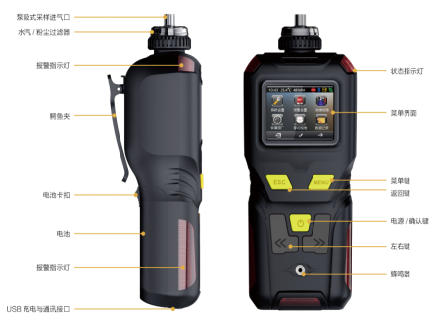 data download