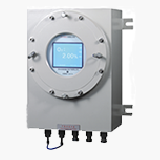 SFD-6002Fifth part: Gas analyzer

SFD-6002 is a high precision explosion - proof online gas analyzer developed by our company. The instrument adopts imported infrared, electrochemical, micro flow thermal conductivity sensor, combined with single chip microcomputer control technology, has the advantages of high measuring precision, easy operation.


The instrument adopts 320 * 240 dot matrix liquid crystal display which is small angle, visual, infrared remote control, full Chinese menu operation, user-friendly, simple and reliable, with a control contact output, overrun own alarm (buzzer), and can freely set the control mode, the standard 4-20mA output current external port, timing records the content of value without anybody, can store more then 3000 data. When the oxygen content in the sample gas is reached to the alarm point, the instrument will automatically alarm.


Products are widely used in petroleum, chemical industry, metallurgy, electric power, nuclear industry and other industries which need some testing oxygen, hydrogen, methane and other places of gas content.

More